Monday, August 2, 2010
Yoohoo, I'm hitting 100th post in my blogspot!
Well, as the above-mentioned, time do flies!
Haha...
Looking back and see how far I've went through..
Tomorrow will be the Annual General Meeting of Board of IT Brigade, in fact all the three main boards too!
I've been invited to attend the AGM tomorrow by my juniors.
Too bad, I couldn't make it as I need to attend my classes.
2nd Aug would be a memorable day I suppose..
Had the 1st Inter-school Graphic Design Competition in 2009 and AGM of batch 2009/2010 in 2010.
I still remember how was I elected as vice-chairman during the AGM in 2008, retire in 2009 and pass down to the next batch in 2009.
Look now, the batch of 2009 is going to retire tomorrow!
Haha...
Being in a board, we had worked hard and carried out so many activities together like camp, benchmarking trip, competitions, IT week and so on...
So much of fun, laughter and also tears...
There were some misunderstandings and caused fights.
We nearly got into really huge trouble, became a well-spread news in school & almost cause our testimonial get affected.
If you are a keen reader of my blog or student of MBSSKL, you'd know what happened about the fights. Hah
Anyhow, glad that we've reconcile and be in good terms again at last!
Here are some photos that we've taken during our activities as a member of Board of IT Brigade:

Pc fair outing... LOL
Perak trip
CBD '09 performance
Board of IT Brigade 2008/2009
CBD '09
p/s: more unseen & haven't-exposed-photos taken during the benchmarking trip and other events will be posted in upcoming post! (I think I promised some people before long time ago that I'll post it. Sorry for the long delay.. >.<) Stay tune!
Ohya, and and....
The choir team that I've joined for many years in SMKBDP, coached by our beloved Pn. Leong.
A team that surely got a place in top 3 every year in the competition since the year it has formed in 2004 till now.
So much of effort, tears of joy & sorrow as well as precious time we've spent on it.
We even sacrificed our time during school, after school time and holiday for practices.
The team has been invited to perform in few occasions and gaining its fame.
A rising team I assume.
Although it may not be as good as SMK Kepong or CBN currently, but I know they can achieve it sooner or later.
Oh yes, they are preparing for releasing an album now!
Very excited and looking forward to it! :D
SMKBDP Choir Team '07
Aiks...
Contrary, I failed to raise the glorious time that I had in my previous school choir team in MBSSKL.
Insufficient time and ineffective teaching + training method on mbsskl choir team...
Blame on me.
Anyway, the members were still able to organize and carry out few events!
Great experience & exposure for them. No, it's us!
Nevertheless, really appreciate their (club members & even non-members! ) help & effort in making these events success.
And, the team performed during an Unicef event last year if I was not wrong.
Positive comments were gained!
Haha... Happy to hear that.
Umm... I was told some saddening news about the club this year...
A teacher was planning to change the music & choir club to dancing club!!
Of course, the m & c club teacher advisor is fighting for retaining the club.
Mmm... Then I didn't really catch up the news as I already retire & graduated what.
Haha...
Anyway, wish the club will be retained and grow stronger!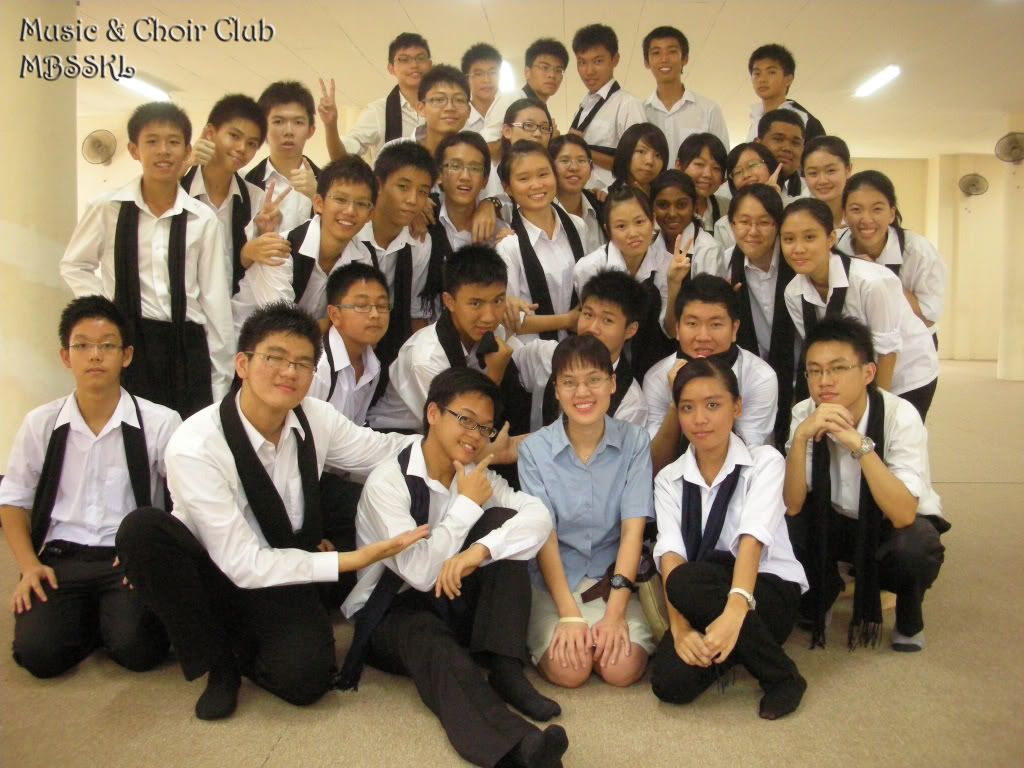 Not to be forgotten, my dear morianz 08/09!!!!
Way too much to blog about it.
Will blog about it perhaps in the future?
haha...
Stop recollecting and back to reality TKY!!!
Early morning class tomorrow and get back to your bed then REST!
0 Comments: